Advanced Materials-JTJ Wins for the Czech Republic in Prestigious Awards competition in the UKTI Award for Innovation category***.
Advanced Materials-JTJ has today been named as a National Champion for the Czech Republic  in The European Business Awards sponsored by RSM; a prestigious competition supported by businesses leaders, academics, media and political representatives from across Europe.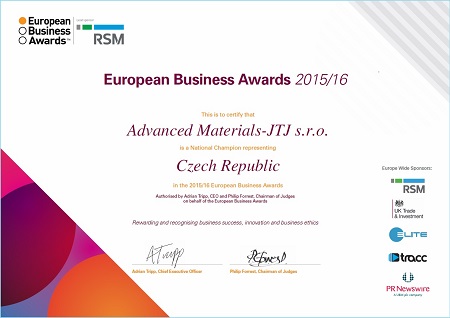 The European Business Awards now in its 9th year engaged with over 32,000 business from 33 European countries this year and 678 companies from across Europe have been named today as National Champions; going through to the second phase of the competition.
Created in 2003, Advanced Materials-JTJ was one of the first nanotechnology firms in the Czech Republic, transferring cutting edge science into daily life. All Advanced Material's technologies, innovations, products and services protect human health and the environment. Especially FN® photocatalytic coatings improve the quality of life setting a new standard for many industries.
Dr. Jan Prochazka, president of Advanced Materials-JTJ  quoted: "We're very proud to be selected to represent the Czech Republic as a National Champion. The European Business Awards is widely recognised as the showcase for Europe's most dynamic companies and we are now looking forward to the next round of the judging process where we can explain in more depth how we are achieving business success."
Adrian Tripp, CEO of the European Business Awards said: "Congratulations to Advanced Materials-JTJ and all the companies that have been selected to represent their country as National Champions, they play an important part in creating a stronger business community."
***The UKTI Award for Innovation 
Innovative individuals and organisations drive the economy. Recognising the evolving nature of business, true innovators originate forward-thinking concepts to instigate improvement. This award acknowledges the importance of innovation as a strategy to influence ongoing business development.
For further press information, please contact:
Jan Prochazka, Ph.D.
Tel +420 774 735 163
E-mail: info@advancedmaterials1.com 
EBA: The Newsroom at the European Business Awards on +44 (0) 796 6666 657 or email vanessa.wood@businessawardseurope.com
For further information about the winners, the European Business Awards and RSM please go to www.businessawardseurope.com or www.rsmi.com