Advanced Materials-JTJ s.r.o. named as one of Europe's best in first ever 'Ones to Watch' list
Advanced Materials-JTJ s.r.o. has been named as 'One to Watch' in Europe in a list of business excellence published by the European Business Awards, one of world's largest and longest running business competitions.
Advanced Materials-JTJ s.r.o. was chosen as it demonstrates exceptional achievement in one of the 18 European Business Awards' categories and reflects the programme's core values of innovation, success and ethics.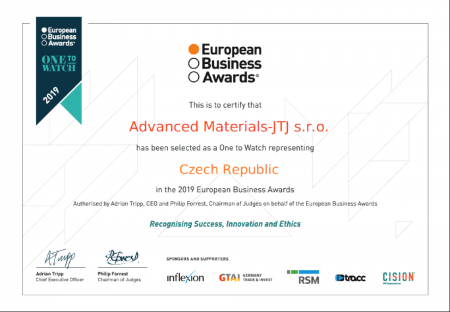 The 'Ones to Watch' for countries across Europe can be found at www.businessawardseurope.com.
Created in 2003, Advanced Materials-JTJ, Ltd is an innovative firm and a recognized leader in nanotechnology and transferring cutting edge science into daily life.  Their products expand the boundaries of environmental protection and energy production.
"We are delighted that after more than 15 years of successful research and commercialization of nanotechnologies on the global market, Advanced Materials-JTJ has again been selected as one of the 2019 European Business Awards – 'Ones to Watch' for Czech Republic" says Dr. Jan Prochazka, president of the company. "When we previously won a 'National Champion' status for the Czech Republic in Innovation Category in 2016, we hoped to represent the Czech Republic as a winner one day. Our business has grown more mature and focused since then as a result of our technological applications being successfully commercialized, so we are more than adequately prepared this time."
Adrian Tripp, CEO of the European Business Awards, said: "The companies chosen as 'Ones to Watch' are the most inspirational, successful and dynamic in Europe" He continued: "The talent and tenacity at the heart of these businesses creates jobs and drives Europe's prosperity. This 'Ones to Watch' list of excellence is a benchmark of success for the rest of the European business community." Companies on the 'Ones to Watch' list come from all sectors; from manufacturing to retail, agriculture to technology, and all sizes; from start-ups to billion euro businesses.
Advanced Materials-JTJ s.r.o. will now have the chance to compete in one of the 18 categories of this year's European Business Awards to become a National Winner in their country. If successful, they will then take part in the Gala Final in December 2019, where the final 18 European winners will be announced.